The Brand
In the world of premium audio equipment, the Schablauer name is synonymous with the design of uncompromising solutions and an unyielding passion for dynamic development.
Our goal is to manufacture audio appliances that offer the best sound in the world, and to hand these over to their owners as part of a unique, specially designed and unforgettable experience.
We focus on our own strengths: the brand sits firmly in the luxury category, as this is where we excel.
Sustainability is an integral and well-established part of our operations, from the design phase to the execution.
We only make special, high-end appliances. Every single product is manufactured and assembled from premium components with the utmost care and precision, as expected by our customers.
With a view to perfection and making products that are unique, we favour handcraftsmanship over automation.
We manufacture various products in various styles, blending a musical experience with special, traditional accessories so that everyone can find the style and combination to suit their own tastes.
"A passion for musical luxury"


Dr Peter SchablauerFounder
Spirit & Soul Turn it on, make it personal
We believe that vacuum-tube amplifiers produce the most irresistible sound, which is why, at the heart of the Spirit & Soul collection, we have designed a beautiful vacuum-tube amplifier and used this as the centrepiece for a unique life experience.
This required a development process satisfying all custom demands in terms of both design and audio technology.
Every single component of your chosen Spirit & Soul collection is high-end, not just in terms of the constituent parts, but also in terms of appearance, favouring classical forms as well as elegant design and materials.
Spirit & Soul contains:
a vacuum-tube amplifier in a decorative wooden box, bearing the limited serial number of the appliance and your name
a set of speakers designed to suit the amplifier, guaranteeing perfect sound and aligned with the design of the individual components
a selection of music meticulously compiled in line with your tastes.

Whisky Edition
This limited edition is a special Spirit & Soul version, with the spotlight on whisky.
Schablauer only has 200 individually numbered Whisky Edition collections for sale throughout the world, providing a unique opportunity for whisky enthusiasts and collectors.
The Whisky Edition comprises all of the Spirit & Soul components, but also includes:
a particularly rare whisky sealed within the dials that feature on the front of the audio device, enabling the whisky to glisten through the illuminated crystal
a selection of some of the world's greatest whiskies for you to sip as you enjoy the music
a set of custom-designed and hand-cut crystal glasses in a decorative box, enabling you to taste the exclusive selection of whiskies in a fitting manner
To achieve the perfect blend of comfort and experience we also offer the following optional components for the Spirit & Soul Whisky Edition:
a custom-designed console, which helps to position the amplifier in the most optimal way in keeping with the overall visual appearance
a premium network audio streamer for the best quality of music possible
an armchair enabling you to listen to music in deserved comfort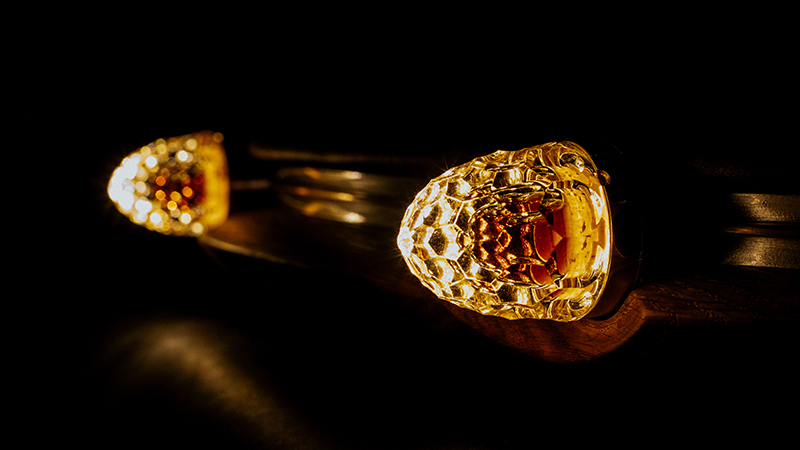 Premium Quality Technology
We are also at the vanguard of technology, tracking global developments and exploiting the latest opportunities to improve our work, our lives and our mood.
We only work with premium select components to provide the perfect auditory experience for anyone in their home, anywhere in the world. We combine dynamic technology with intuitive usability.
When manufacturing our devices, we rely not only on modern trends and developments but also on classic craftsmanship, so each of our devices is sophisticated and unique.